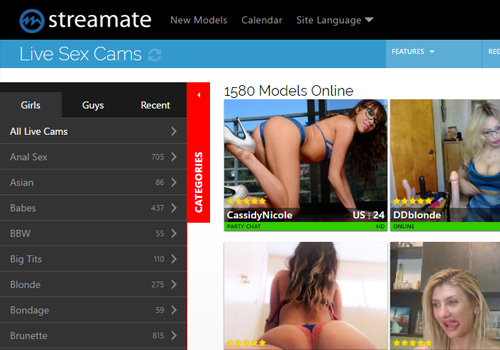 Streamate is a live sex cam site that offers extremely attractive cam models to Internet users who are looking for an exciting live performance in high definition quality. Streamate has over 1200+ live sex cams active approximately at any given time with nearly 11,000+ registered. You're going to have your choice between enjoying live cam girls, guys and trannys. It's all up to you what you ask them to do on webcam, but the general idea is you can practically ask them to do anything on your wish list. There are gold shows, private shows and party chats on this cam site. To learn more about what you get when you join this live sex porn site, read or watch my Streamate review below. I get into all the details, facts and reasons why this one is worth becoming a member of, so you don't have to find out on your own.
The Talent
The talent at Streamate is very diverse. It's mainly made of top cam models on the homepage, but disperses into several niches / categories so those with particular preferences can find the cam models that work for them. Not everyone is into say thin blonde haired women with big tits. Maybe they like petite brunettes with small tits? That's why there's so many diverse women, men and trannys here at Streamate, it everyone find the cam model to complete their fantasy. Here's a little more about the talent you're going to find on this live site.
The Women – The girls you're going to find at Streamate are very hot, very sexual and ultimately here to make your fantasy come true. The majority of performers found at Streamate are women and for a good reason – more people are looking for women to have live sex with. I think you're going to be very pleased to see that there are women 18-30+ years old on this live webcam site.
Some of the most popular live sex categories for women are teens, blonde, petite, anal, housewives, white girls, couples and more. That goes without saying though, you can find pregnant women, hairy pussy, Ebony, bondage and more as well. Streamate has you well covered with selection when it comes to bringing you the women you desire.
These cam girls will definitely please you how you choose. They will take your requests. Most of them enjoy stripping, playing with their tits, masturbating, using sex toys, fucking, roleplaying and performing fetish requests.
The Men – The men you're going to find at Streamate are definitely horny, hot and willing just like the women are. You're going to see both straight and gay men at Streamate ready to have fun on webcam. These live cam men are really good at making your fantasy come true. The men are ages 18-30+ years old.
Some of the more popular men at Streamate you're going to find are strong, young men with ripped bodies. You're going to also find young thin men to be on the top of the list as well when it comes to the most popular found on the site. You're going to find there to be a mixture of some lesser popular (but highly sought out) cams like hairy bears, black, uncut cocks, BDSM, daddy and more.
The thing you need to know about the men's cams is that they come with variety. There's literally something for everyone here at Streamate.
The Transgender / Transsexuals – You're going to have a great time finding shemales / tranny live cams at Streamate. There's plenty of gorgeous t girls here that are ready and willing to have live sex. These transgender babes are online at the age of 18-30+ years old, just like the men and women, they start off young. These chicks with dicks seem to enjoy performing live for you and helping you obtain a certain type of fantasy during your experience.
You're going to find some of Streamate's popular tranny categories include white, Asian and big tits. Some of these shemales actually look like women and are more attractive than a lot of the female on the Internet in general. I couldn't believe what I saw, I had to double check that I wasn't in the female cam section of the site – nope! These "girls" are actually trans to my surprise (very passable). There are some lesser popular categories at Streamate like BBW, black, non passable and other categories.
You're going to find variety with transgender cams, even though there are about 100 of them online at any given time, it's definitely Streamate's smallest section of their site.
Streamate Video Stream Quality
The video quality at Streamate comes to you in high definition quality. While it's advertised as HD quality, it's hard to determine the exact dimensions of the video streams. They look clear, decent and easy to watch, but it's not exactly crystal clear like you would expect from say a blu ray movie.
I guess there's a lot of resource required to stream amazing quality feeds to every surfer in the chat room so using premium quality streams might be expensive for them and I can totally rationalize the reasoning behind waterdown HD quality.
Streamate Top Features
Streamate has a lot of great things going on that makes this live sex site worth joining. These guys are at the top of their game providing such a great quality experience for anyone who is looking to enjoy live sex at its finest. They are the one of the leaders for quality and performance in the live cam sex industry. They have over 1200+ live performers online at any given time with over 11,000+ registered.
Free Chat "Party Chat" – You actually are going to enjoy free shows at Streamate. The thing is, there's three different ways to watch and enjoy live cams at Streamate. The free chat is like a community based area where people can tip while in the room and have the cam model perform requests for everyone to see. This is awesome because it promotes tipping, it promotes community goals and thus rewarding everyone even if not everyone pays. The free section at Streamate is definitely working and is quite fun for everyone involved.
Private Chat – You're going to enjoy chatting live with models one on one. This private chat is where you can go to enjoy cam 2 cam action with models. You can get them to fulfill your fantasy, talk to them, etc. You can basically make any request and they will usually accommodate you, which is great!
Gold Chat – You can enjoy going live with a few surfers like yourself and having a small room where a semi private show is taking place.
Cam 2 Cam – You can chat live with cam models together on webcam. Cam to cam is definitely enjoyable because they can see you (if you choose) and you can see them as you enjoy your session together. How hot and exciting is it to have a good time with a model fully interact with you on webcam? I think it's one of the best features and live sex site has.
Free Registration – You can register to Streamate and enjoy some amazing live cams at your fingertips. This site allows you to register and enjoy the benefits of a free membership until you're ready to spend tokens / credits.
High Definition Video – Enjoy streams at Streamate in high definition quality. The video feeds are very good on the eyes and allow you to feel like you're actually there with the cam model.
Advanced Search – Get picky, get REALLY picky with your search results and find the cam models when you're browsing Streamate. They have everything from hair color, eye color, build, location and many other search criteria to help you find the cam model you're looking for. Use this feature if you're trying to narrow down the models you see before you, because there are so many live performers on the site.
Favorites – Save your favorites at Streamate. You can get notified when your favorite cam model comes online so you can have a live sex chat when they are available for you to watch. It's a neat feature that keeps you connected with the models you crave.
Navigation And Ease Of Use
The navigation at Streamate is very easy to browse. I think when you see just how smooth and easy finding your favorite live cam streams is, including the advanced search features, you're going to find yourself with a great quality live experience. Everything is categorized and searchable within their model index.
How Credits Work At Streamate
Credits at Streamate generally work on the basis of 1 credit per USD. That's just usually how these live cam sites work – make everything equal a USD. Cam models charge a number of tokens per minute and that equals $x of dollars per minute when you think about it.
You can use tokens to purchase live sex shows in private, in group party chat, in gold chats and to tip the model too.
I love Streamate because they actually let you enjoy live sex cams in three different types of action which further enhance your time and experience on the site.
Any Concerns At Streamate?
Sometimes you'll find a lesser quality cam (and even a bad performer) from time to time. But realize these are rare instances and generally, the cam model is there to please you and cater to your needs based on tips. Most of the cam performers are in good spirits and enjoy doing what they do.
Conclusion
Streamate is one of the top cam sites of all time for a reason. They bring a quality HD experience to your computer or mobile device. They have over 1200+ live models and over 11,000+ registered cam performers on their site available all the time. The site has really good quality cams, the performers are genuine and fun, there are good search options and many different ways to interact live with sex cam models to make your experience unforgettable. I think you should definitely check out Streamate if you're looking for a premium live cam site to join and have access to. Join Streamate Now By Clicking Here!
Streamate Video Review
Video Not Playing? Click Here To Download It!
Streamate Screenshots