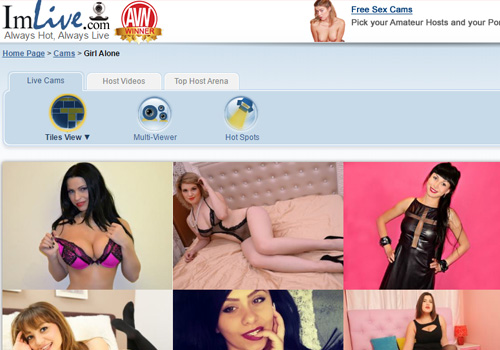 Everything About Im Live
If you're looking for a live sex cam site that brings you an established selection of cam models who are online, live and eager to please, you've found it. Im Live is a long lived webcam porn site that offers a fantastic collection of live models who are ready to have private chat with you. It doesn't matter if you're looking for women, men or tranny – there's the ultimate selection of high definition quality feeds for you to choose from. You're seconds away from having hot cam 2 cam sex on this porn site today. This site boasts over 700+ live models online at any given time from their robust selection of over 50,000+ registered live sex cams they have to date. Whether you're looking for an online fling, a chat partner or someone to have live sex with, Im Live certainly brings you a ton of worthy live sex performers to choose from. You're likely able to find someone to have private chat with if you visit the site and take a look around. Read or watch my Im Live review below to fully understand everything that is offered when you go live with these beautiful cam models.
The Talent
With a selection of live cam performers you can drool over like Im Live gives you, you won't want to go to any other cam site. There are over 50,000 registered cam models here and over 700 live at any given time. There's girls, guys and trannys to choose from, with the majority being women on this site specifically. Each model fits in his / her category and with such a vast selection, you're bound to find a live cam model you're interested in chatting and going in private sex chat with. Here's a basic summary of the people you're going to find at Im Live.
The Women – You're going to find a selection of the hottest live cam girls at Im Live. They have a specific section of the site for the top models the site has to offer. These are the highest rated cam girls of their site. They have the general category selection the other cam girls fall under. They're just as good but maybe not as popular. The women here are very hot and sexy. They range from 18-30+ years old, with the younger girls being more prominent and the older they are, the rarer they become.
At Im Live, the most popular categories seem to be 20-24 years old, white, girl alone, medium bust and black / brown hair. There are various other categories you should check into like 18-19 years old, big tits and other ethnicities.
These cam girls are definitely enjoyable to watch on live sex cam. You're going to find something you're going to enjoy here at Im Live, guaranteed. There's even a big list of fetish cams available for you to click through as well. They have all sorts of kinky cams for you to browse and enjoy.
You can enjoy chatting with these cam girls live and they will indeed take your requests. Enjoy watching girls masturbating, playing with their nice tits, role playing, fucking, fetishes and even more. There is no limit to what you can do with live cam girls at Im Live.
The Men – The men you'll discover at Im Live are extremely horny, well groomed and ready to play on live sex cam. There's not quite the same quantity of cams available as the women provide, but there is certainly a fair selection of live men you can browse on this site. At about any given time, you're looking at over 60+ live guys online at Im Live at any given time, most of them being gay.
The more popular men on the site seem to be around 18-30+ years old and have nice fit bodies. Yep, there's a reason people pick the ripped bodies first but there is definitely a selection of thin twinks, otters, gay bears and bodybuilders on this site. There are older men certainly, there are a variety of ethnicities available too and more. There's really no limit as to who can be on this live sex site or not.
There's something for everyone here at Im Live when it comes to guys, so come on in and have a look for yourself and see what you can find!
The Transgender / Transsexuals – What was more surprising than the fact that there are trannys on Im Live was the fact they outnumbered the live guys 2 to 1! Yep, you heard this right, there's more transgendered live sex cams here at Im Live than there are live guys. If you're someone who appreciates female bodies with large cocks, you're going to certainly enjoy the selection of tranny cams here. With about 120+ live trannys online at any time, you're going to have your pick of some of the hottest chicks with dicks there are.
Most of the transgenders here appear to be in the ages of 18-30+ years old. More of them seem to be in their 30s if I had to make an assumption. You will find that whites are the minority in this section of Im Live, but they do exist. I think you'll enjoy that there's a steady mixture between most races here, however I believe Asians clearly outnumber the rest of them in this category. There's passable trannys, non-passable trannys dressed in drag and everything in between.
In regards to what you're going to see on this live sex site, you're going to get quite a good mixture of live sex cams to enjoy on this site. Have a look around and browse around.
Im Live Video Stream Quality
The quality of the live cams at Im Live vary significantly. They're advertised as high definition quality. It's hard to determine the actual resolution of these scenes. You're going to see some cams in better quality than others. The ones that are better in quality kind of look a little water down compared to HD porn.
I think you're going to be enjoying the quality at Im Live but you will find other sites beat this one in terms of quality.
Im Live Top Features
There's a lot of great things going on with Im Live lately. You're going to enjoy them because they're one of the most established cam sites in the industry. With over 700+ live cams online at any given time and over 50,000+ registered to the site, you're going to have the ultimate pick of the cams here.
Free Chat – Each live sex cam comes with free chat. You can browse through just about any live cam you choose and have a taste of the goods before you actually start private chat. It allows you to have a sneak peak of the model's body and get to know her before you drop coin on any tokens / credits.
Private Chat – This is where the fun happens at Im Live. You can take any girl, guy or tranny into private chat and go live one on one with them. You can enjoy their company, get them to perform requests, have live sex with them and more. It's really up to you how your time is spent with these live performers.
Cam 2 Cam – Having cam to cam chat with Im Live models is amazing. You're going to enjoy showing off your body to them and you can see theirs as well. This is true live sex at its finest. You can enjoy the fact you can see each other likely in most cases from other parts of the world.
Free Signup – You can join Im Live for free and obtain your free account. This allows you to enjoy chatting with your favorite cam models in private chat, bookmark / save your favorites and more.
Great Quality Video – While some cams are of lesser quality, the best ones are shot in HD quality. You will enjoy decent quality video streams to your computer or mobile device with your Im Live access.
Advanced Search / Category Options – You can be very specific in your search for your new favorite live sex cams. You can also select model through a generous selection of predefined categories too.
Save Favorites Fast! – Joining free allows you to save your favorite cams quickly. You can browse and see when your favs come online so you can be the first to reserve private sex chat with them so you don't miss out.
Navigation And Ease Of Use
Browsing through the Im Live website is pretty straightforward. You're not mislead and you won't have a hard time clicking through to find what you're looking for. I recommend you check out the free registration, it makes it easy to keep track of your favorite models. Also, their search feature seems to be very helpful.
How Credits Work At Im Live
At Im Live the credits are quite simple. $1 USD = 1 credit. You simply can purchase credits in bulk or simply as needed. The more you buy at once, the cheaper it is for you.
You can use these credits to tip cam models at Im Live or you can go in private chat with them at a per credit rate.
Any Concerns At Im Live?
You'll find great quality cams and bad quality cams. Sometimes you'll run into that situation, you just need to move on to the next girl and hopefully that doesn't inconvenience you.
Conclusion
Im Live definitely stands out among the top live sex cam sites out there alongside the industry leaders. You're going to enjoy high definition quality live cams with this cam site. There are over 700+ live cam models online at any given time, giving you access to an extensive collection of women, men and trannys. The performers here just want to have a good time with you and enjoy the experience overall. I think you can't go wrong at all checking out Im Live for yourself. Definitely browse this sex cam site if you have a few spare minutes. Join Im Live Now By Clicking Here!
Im Live Video Review
Video Not Playing? Click Here To Download It!
Im Live Screenshots