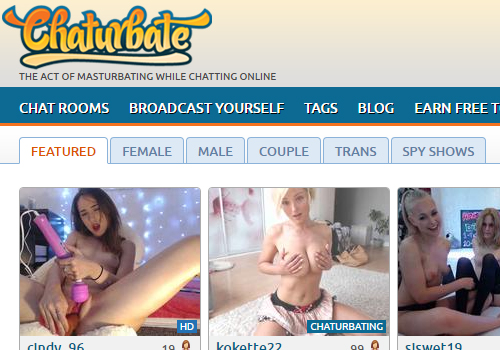 Chaturbate is a wonderful live cam sex site that focuses primarily on bringing people together. The interaction you get from this live sex site is incredible because it's based on live cam models appearing on webcam for a whole room to see and enjoy at the same time. Users can tip tokens or credits according to the cam model's goals (50 tokens to flash, 150 tokens to fuck, etc) and when doing so, everyone watching benefits. The site does allow for models to go in private chat, so there is that traditional option for those that like to have a one on one / cam to cam experience. This live sex site has over 500+ live cam models online at any time with thousands of them registered and broadcasting in high definition quality. You should definitely read or watch the rest of my Chaturbate review below to get full scoop about this live cam site today. I did the work, so you can find out exactly what you're getting when you join.
The Talent
Chaturbate is no stranger to the adult industry. You'll see their lovely cam models on webcam at all hours of the day. You get such a great quality mixture of eligible girls, guys and trannys on this awesome community based live cam sex site. On an individual basis, here's a little more about the live models you're getting to enjoy when you join Chaturbate today. All models start at the legal age of 18+ years old and reach over 50+ years old. There's definitely something for everyone here.
The Women – The women you're going to find at Chaturbate range considerably. There's really no one sentence to describe them all. Starting at the age of 18+ years old, you're going to find one who fits your criteria. You're going to find a mixture of all races here – white, black, Asian, Latina and Indian babes, girls who have big tits, small tits, hairy pussy, shaven pussy, small girls, tall girls, big girls (bbw) and thin girls.
There's definitely girls that take on an amateur appearance and there are girls who look like legit pornstars here at Chaturbate. You're going to find very popular girls with thousands of live viewers online at any time and some that aren't as popular but might be right up your alley with a particular niche or fetish that turns you on.
On live sex cam, you're going to find that a lot of Chaturbate girls strip, show their pussies, fuck themselves, use sex toys, play with their nipples, perform fetish requests, role playing and more. There's really nothing these sexy girls won't do for you whether in public or private chat rooms. All you really need to do is chat with a girl that interests you and go from there.
Chat With Chaturbate Girls Now!
The Men – There's plenty of men live at Chaturbate for you to enjoy if you're interested in men. Whether you like straight or gay men, Chaturbate cares about your experience so there's plenty of selection when it comes to bringing you quality live entertainment. There's men starting at the young age of 18+ years old. Whether you're looking for skinny men, built men, hairy men, masculine men, old men or young men, this site is packed with different types of men for you to enjoy.
They come to you in a wide range of heights and builds. You can find a guy with facial hair, you can find guys smooth or shaven, you can find guys with bubble butts, you can find guys that work out and definitely a few that don't. Men here come in different races / ethnicity. There's white men, black men, Latino, Asian and Indian found on this site.
Some of the most popular live men at Chaturbate have over 500+ viewers at any given time. You'll find less popular live cams that actually might suit your interest if you're someone who doesn't have mainstream taste in men.
Lots of men here are willing to do whatever it takes to bring you a good, pleasant live cam experience. You're going to find them able to masturbate, show off their bodies, play with their asses, use sex toys, cum for you, role play, fetishes and more. All you have to do is ask the men of Chaturbate what you want to do with them and they'll likely accommodate.
Chat With Live Men At Chaturbate Now!
The Transgender / Transsexuals – You're going to find some hot trannys at Chaturbate! Some of these "girls" look like passible women and if it wasn't for their little (or sometimes big) cocks hanging out, you'd never know they have male anatomy. You're going to see some beautiful, tight assed, hung trannys live on webcam at Chaturbate. They start at 18+ years old and some of them look absolutely amazing.
You're going to find there to be some very popular transgendered babes here at Chaturbate. Some of them have hundreds of live viewers watching their feeds at any given time. You're going to enjoy watching them play with their tits, jerk their cocks off, use sex toys, dress up in sexy clothing, perform role playing and cater to fetish requests. There's a million things you can do with live cam models at Chaturbate. The options are endless.
Chat Live With Trannys At Chaturbate!
Chaturbate Video Stream Quality
The exact video resolution at Chaturbate is not available, but the webcams here are advertised as high definition quality. You're going to enjoy watching labelled cams with the HD symbol in better than average quality when you go live with live sex cam models at Chaturbate.
Chaturbate Top Features
Chaturbate is known to be a game changer in the live cam sex world. You're not only going to enjoy a mixture of the hottest cam girls, guys and trannys in high definition quality, but also a variety of features that set apart the site from others. These are the reasons why people flock to Chaturbate.
Legit Free Chat – You can simply watch free live sex cams at Chaturbate. The whole point of this community atmosphere is that you can chat with cam models with 100s of other surfers who collectively tip tokens / credits to the performers at fair prices. You can tip 1, 10, 100+ tokens or none if you don't want to and still enjoy the benefits of other people tipping to hit the model's monetary goals. If goals are met, you see them get naked or perform requests!
Free Registration – Registering to Chaturbate is absolutely free. You can personalize your live sex experience when you login to your account. Join Now!
Save Favorites To Your List – Saving your favorite cam models to your list when you're logged in allows you to receive notifications when your favorites come online. This helps you get more of what you want and save time.
Private Chat – Enjoy private chatting at Chaturbate when you go live with eligible models who allow private chats. You can then see an exclusive show that is geared to your own interests. Ask live cam models what you want them to do and they'll likely do it for you. Specific requests are better done in private chat versus community public chat.
Cam 2 Cam – You can go in private with specific models who not only will talk to you in private but opt to seeing your cam while you're watching theirs! This provides an intimate experience shared between the two of you. Get your fantasies fulfilled this way.
Purchase Media – You can buy cam shows, pictures and other things from the model's collection. Check out their profile to do so.
Bonus Credits – When you bulk price purchase tokens, you receive additional credits free. Have a look at the pricing structure on the right hand side of this review to learn more.
Navigation And Ease Of Use
Navigating throughout the site is fairly easy to do. With properly labelled navigational structure, finding the live cams you want to enjoy will be no daunting task. I wish they did have some more advanced features though when sorting through live cams.
How Credits Work At Chaturbate
Credits are purchased in bulk. You can find pricing on the right hand side of this review. The more you buy, the better the discounted rate.
You can spend credits at will during public chat to help models reach goals or just to compliment them. Private chats specifically cost per minute, a specific amount of credits you agree to before starting the live private chat.
Any Concerns At Chaturbate?
The site's design could be a little bit better. It works, it just could look a bit better and that's me being picky.
The search options are fairly limited when you compare the search functions of other cam sites to Chaturbate.
You'll find the odd weak quality live cam feed. I think you're going to be better off searching for cams marked HD quality.
Conclusion
Chaturbate definitely brings a unique, community based live sex cam experience. You are seconds away from enjoying thousands of live cam feeds in high definition quality. There's so many women, men and trannys available at any hour of the day or night for you to enjoy. The site's token/credit and tipping structure is very well laid out and makes enjoying live sex streams cheap and fun to enjoy. I think you should definitely check out Chaturbate if you're looking for a good live cam site to experience. Join Chaturbate Now By Clicking Here!
Chaturbate Video Review
Video Not Playing? Click Here To Download It!
Chaturbate Screenshots